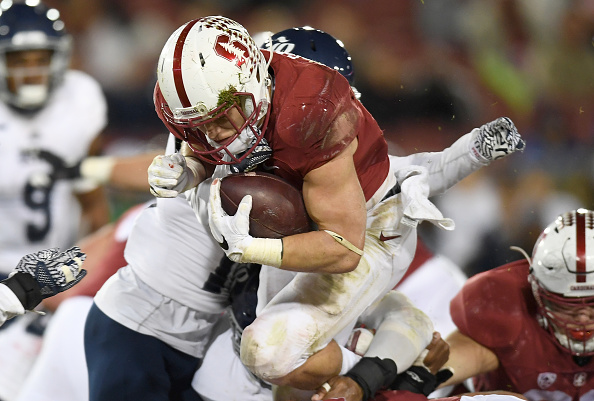 The NFL Draft keeps getting closer and player rankings and mock drafts are dominating the headlines. Every team is looking to get a star with their first round draft picks but certain players just fit better than others.
Here is a list of nine players that must be taken if they are on the board when these teams have a chance to draft.
9 Perfect NFL Draft Picks
1. Green Bay Packers (29th): Christian McCaffrey (Stanford) – Running Back
The 'problem' in Green Bay for many years has been that they cannot find a consistent running back. Eddie Lacy looked like the answer but decided to put on 40 pounds and ruined his chance at being an every down player. This year, McCaffrey is one of the best backs in the class and could potentially slip as far as the 29th pick.
On tape, McCaffrey has the potential to be a top ten pick but some NFL teams do not think he will transition well into the pro game. The fit in Green Bay would be perfect because McCaffrey has the potential to be an every down back. If his pro day is any indication, McCaffrey has the talent of a wide receiver as well as the ability to be a straight a head, downhill running back. Aaron Rodgers would love having a back like McCaffrey to take some pressure off of him.
2. Baltimore Ravens (16th): Mike Williams (Clemson) – Wide Receiver
Steve Smith Sr.'s retirement and Kamar Aiken's departure have left a giant hole in the Ravens receiving core. The Ravens currently have a ton of speed on the outside with Mike Wallace and Breshad Perriman but lack a possession receiver that can go up and get the ball. Williams is the weapon that Joe Flacco needs to take this Ravens offence to the next level.
The Clemson junior has seen his stock fall a bit from being projected as the best receiver in the draft after Clemson's national championship win. Many analysts have Western Michigan's Corey Davis higher than him. That is why Williams may fall to Baltimore. He has talent like former Raven Anquan Boldin but is also taller and quicker. If Williams is available at 16 the Ravens have to take him.
3. Cleveland Browns (12th): Mitch Trubisky (North Carolina) – Quarterback
The Browns have had a very good under the radar offseason so far and are looking to keep rebuilding with the 12th pick. Myles Garrett is already a lock for Cleveland to take at number one but the 12th pick is a bit harder to predict. Trubisky might not be a sure fire star quarterback but he has the potential to be one.
Not to mention HE SAID HE WANTS TO BE A BROWN. When was the last time someone heard that out of a highly coveted first round talent?
With the improvements that the Browns have made on their offensive line this offseason, Trubisky will be protected; a luxury that Johnny Manziel and Robert Griffin III did not have. Even though he only has 13 real starts under his belt, Trubisky has the skill set of a franchise QB. He is great in the pocket and has the legs to run and escape pressure. Cleveland should grant him his wish and bring him back to Ohio.
4. Tennessee Titans (5th) – Marshon Lattimore (Ohio State) – Cornerback
Last season, the Titans secondary was awful. That is not supposed to happen when Dick LaBeau is your defensive coordinator. Adding a long term solution with the number five pick is exactly what Tennessee needs and Lattimore is the best corner in the draft. The Titans just added corner, Logan Ryan in free agency and the pairing could be the start of turning aronund a less than stellar secondary.
Lattimore was ravaged by injuries his first year in collage but showed in his one season as a starter that he has lock down corner ability. His combine results only further cemented him as the as the number one corner available; especially with Sidney Jones's achilles injury. Lattimore was top three in his broad jump, vert jump and 40 yard results. The Titan's secondary has to move forward and put the secondary into the hands of younger players like Lattimore.
5. Carolina Panthers (8th) – Leonard Fournette (LSU) – Running Back
Many have experts have projected Fournette to be off the board by the eight selection but if he ends up with either the Jets or Jags, he is going to get hit, and hit hard. That is not good for a 6'0", rookie running back. That is why Carolina is his best, realistic fit. Carolina's offensive line is not incredible but is a step up from both New York and Jacksonville's.
It is no secret that Cam Newton takes some big hits. Fournette is an impact player that Carolina needs, coming out of the backfield to take some pressure off of Newton. Even though Jonathan Stewart just received a contract extension a month ago; he is not the long term solution. Adding Fournette will give the Panthers the scariest and most versatile running game in the NFL.
6. Los Angeles Chargers (7th) – Malik Hooker (Ohio State) – Safety
There are very few players that will ever have their name mentioned in the same sentence as Ed Reed but Hooker is already one of those players. The Chargers lost their long time great safety Eric Weddle last offseason to the Baltimore Ravens and they need another player to do what he was able to do for the past decade. Hooker fits nicely in Los Angeles and could lead the secondary while Joey Bosa holds down the front seven.
If not for Casey Hayward, the Chargers secondary could have been absolutely dreadful in 2017. That is why it is the perfect time to draft Hooker. Hooker will help out Hayward in the open field and open the door to the LA secondary becoming very good in the future. The AFC South is the best devision in football right now and the Chargers need more impact players to keep up.
7. Denver Broncos (20th) – Garrett Bolles (Utah) – Offensive Tackle
If it has been said once, it has been said a hundred times. The Broncos need to improve their offensive line. At the moment, it looks like either Paxton Lynch or Trevor Siemian will be starting at QB for the Broncos in 2017 and they should at least be given some help to keeping defenders off of them. With the fluctuation of Cam Robinson's value and an injury to Ryan Ramczyk, Bolles must be picked if he is available at number 20.
Already being a potential first round pick before the combine, his performance only boosted his value. Bolles posted insane combine numbers as he finished first or second in four of the six combine events among offensive lineman. Even if Bolles needs some fine tuning at the pro level, he has pro bowl capability and will help the Broncos and their QBs stay competitive.
8. Philadelphia Eagles (14th): Gareon Conley (Ohio State) – Cornerback
Conley is not necessarily a lock if he is on the board at 14 but is a blatantly obvious option. If they draft Conley with there first pick they are adding a quality part to a secondary that desperately needs a leader. The Eagles could also go for Florida State running back Dalvin Cook, but Conley addresses an immediate need.
Philadelphia had Pro Football Focus's worst ranked secondary at the end of last season and they have not done a lot to upgrade it. Rodney McLeod and Malcolm Jenkins are solid safeties but are given no help by Philadelphia's current cornerbacks. Conley might not be a complete shut down corner just yet, but he has the potential to be at least, a solid starter. Drafting a corner in the early rounds is a must for the Eagles and Conley is a safe pick.
9. Indianapolis Colts (15th) – Haason Reddick (Temple) – Outside Linebacker
Robert Mathis finished his incredible Colts career last season and was one of only a handful of players on Indy that made an impact last season. The Colts should now draft his successor. Riddick might not be the same kind of player as Mathis, but he has great speed off the edge and is overall more athletic.
If Reddick had the a build more suited to his position he would be a lock to go in the top five. Not only can Riddick rush the passer but his coverage skills are very primed. Reddick made Temple as a walk on defensive back and then transitioned to linebacker. Indianapolis needs a lot of help to become a competitive team again and Reddick gives them someone off the edge that can rush the passer and play in coverage.
Main image credit: